The Playbook
3 Tips for a Killer Media Kit
#MEDIAKIT
When it comes to pitching yourself to brands for your next collab, your media kit acts like your resumé. It's the best tool you have to set yourself apart from your competition, showcase what makes you unique and ultimately help you take home a bigger paycheck.
As influencer marketing evolves, brands are becoming less and less concerned about the size of your audience and more interested in the quality of your audience and the range of other skills and content angles you can bring to the table like; content creation, copywriting, speaking, modeling, presenting and community engagement.
Your media kit should highlight your unique skills and storytelling ability while showcasing previous work and past brand collaborations for credibility. Here are three things every social media influencer should be including in their media kit to catch the attention of brands.
1. Write a Killer Bio
There's more to you than just metrics. Just like when you're applying for a job, it's important that you make sure you (and they) are a good culture fit. Often, your bio is the first thing your potential collab partner will read so it helps to really pack a punch.
It helps to include things that add extra layers to your community influence or repertoire. Maybe you host a podcast on the side or you're part of a charity group that helps collect rubbish by the beach or you spend your Saturdays photographing life in the city.
Whatever it is, authentic stories make for better collaborations, your hobbies, values and associations can open up opportunities for different content ideas and future partnerships.
2. Showcase Your Audience
You've likely spent years building your audience and curating content that they love. No one else has an audience like you. We reckon that's worth celebrating.
Now, your audience isn't going to be as valuable to every brand, but for some it's probably the very thing they've been waiting for. It can be tempting to leave these insights out, especially when you're wanting to work with that Australian skincare brand but it's your UK audience that is booming.
Long term, your audience will thank you for partnering with brands that work themselves seamlessly and authentically into your content. It will likely lead to better performing ad content, longer partnerships and a more engaged audience. We think that's worth more than a quick buck.
3. Know Your Worth
Transparency builds trust. Now that you've highlighted all the added value you're bringing to the collaboration it helps to be upfront with your fees. Obviously these can be flexible depending on the brand or the brief but it provides a good starting point. It also makes a strong statement that you don't do work for free.
Remember, it can be a big investment for a brand to have you create an asset that will only be delivered to your audience once. As a nice upsell, think about offering different licensing options that might see your content used across digital, print and even out of home(OOH) advertising. Having you create the content works out a lot cheaper for brands than paying large publishing houses and is great exposure for you too.
---
Remember, you're a professional. Make your media kit look pretty, show off your creativity and just like your resumé, get to the point. Only include things that are relevant to the brief and the brand. That could include things like; links to articles, testimonials, availability, community sentiment and much more. Use your judgement.
Get started by creating your Media Kit with Kitly, add in what you need, take out what you don't and get one step closer to landing your dream brand collaboration. You've got this.
Kitly is a collaboration management software with tools to help you pitch, land and manage your next brand collaboration. Kitly's tools include account performance insights, customised media kits, performance reporting, collaboration & deliverable management and invoicing.
try kitly for free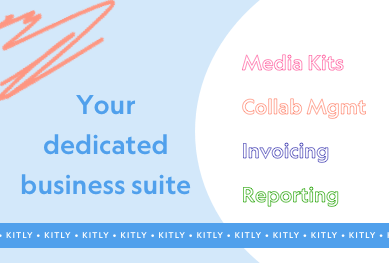 How can I use Kitly to get more brand deals?
Whether you are just starting out and looking at ways to monetise your social media or you are a veteran of the industry, Kitly helps you every step of the way.
Keep reading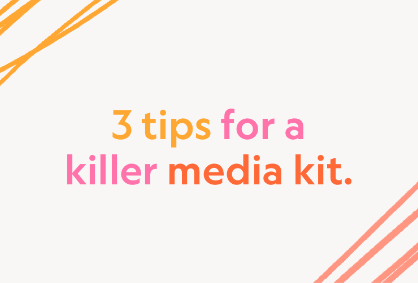 3 tips for a killer media kit
When it comes to pitching yourself to brands for your next collab, your media kit acts like your resumé. It's the best tool you have to set yourself apart from your competition.
Keep reading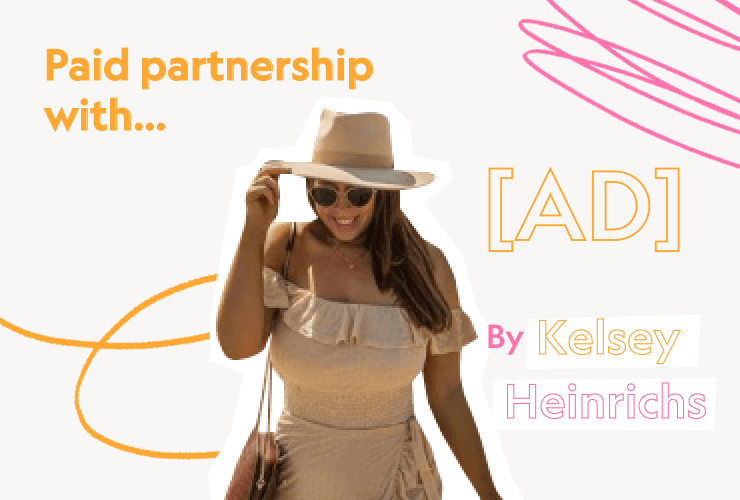 The Importance Of #AD
Why disclosing your ads could actually increase your social media performance.
Keep reading